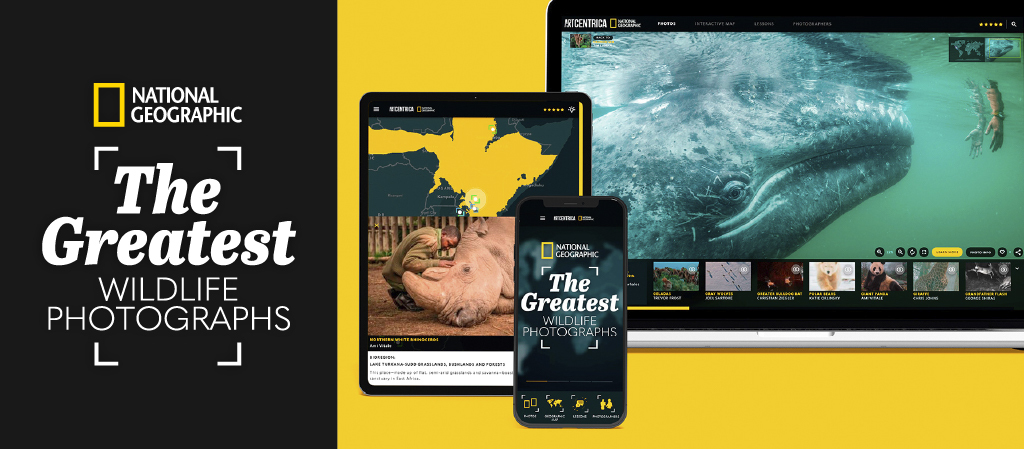 In questi mesi abbiamo lavorato ad un progetto che, finalmente, siamo felici e orgogliosi di poter condividere con voi: insieme a National Geographic abbiamo sviluppato The Greatest Wildlife Photographs – ArtCentrica NGS. Si tratta di una piattaforma virtuale e interattiva che permette di presentare in modo del tutto nuovo le fotografie che hanno reso famoso il National Geographic nel mondo.
Il lavoro ha avuto una lunga gestazione, e ha avuto inizio a seguito della vittoria di ArtCentrica dello special track That's Geography di National Geographic, in occasione dei GESAwards 2020.
ArtCentrica NGS è stata realizzata a partire da ArtCentrica Platform; la nostra piattaforma software anche alla base del servizio ArtCentrica, rivolto al settore educativo globale.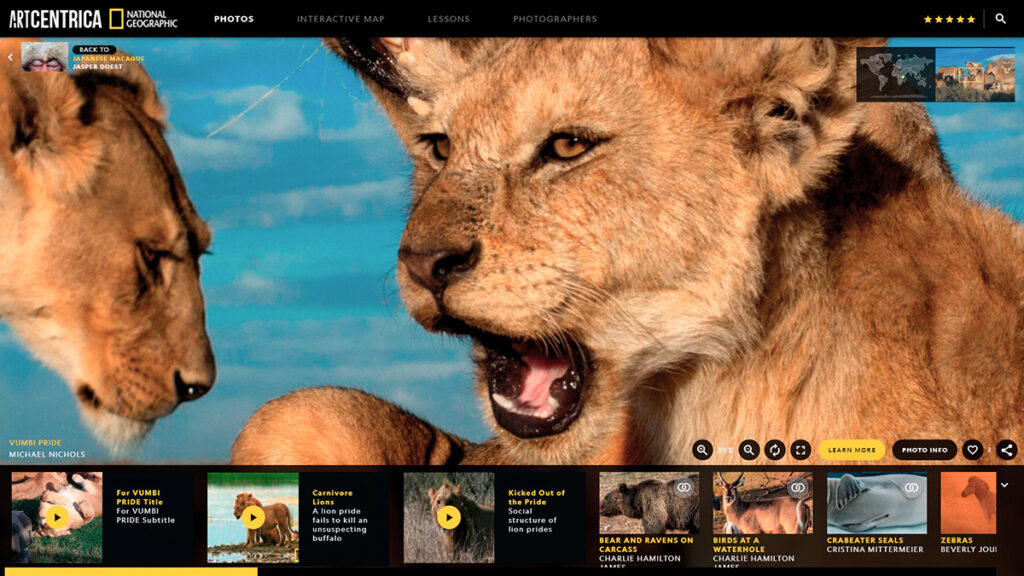 Con questo innovativo strumento digitale, studenti e appassionati possono apprendere informazioni sul Pianeta Terra, attraverso gli scatti dei grandi fotografi. Scegliendo la categoria di appartenenza si accede alle foto, così come dai punti della mappa globale (powered by Esri).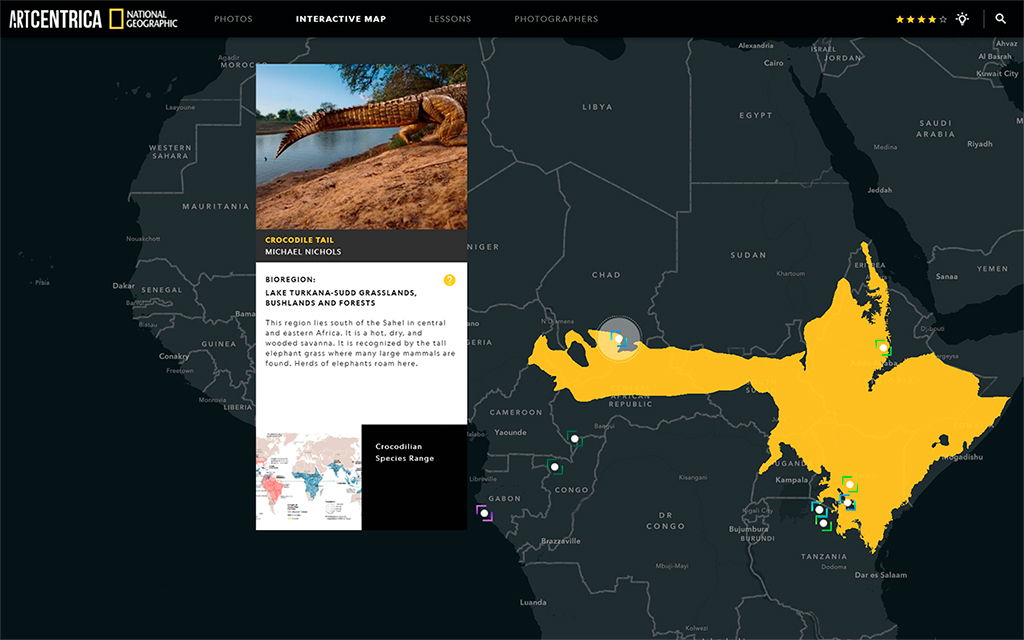 Le immagini sono esplorabili in ogni dettaglio e tramite la funzione "Learn More"; in base alla porzione di foto che si sta osservando, la piattaforma suggerisce altre foto e video.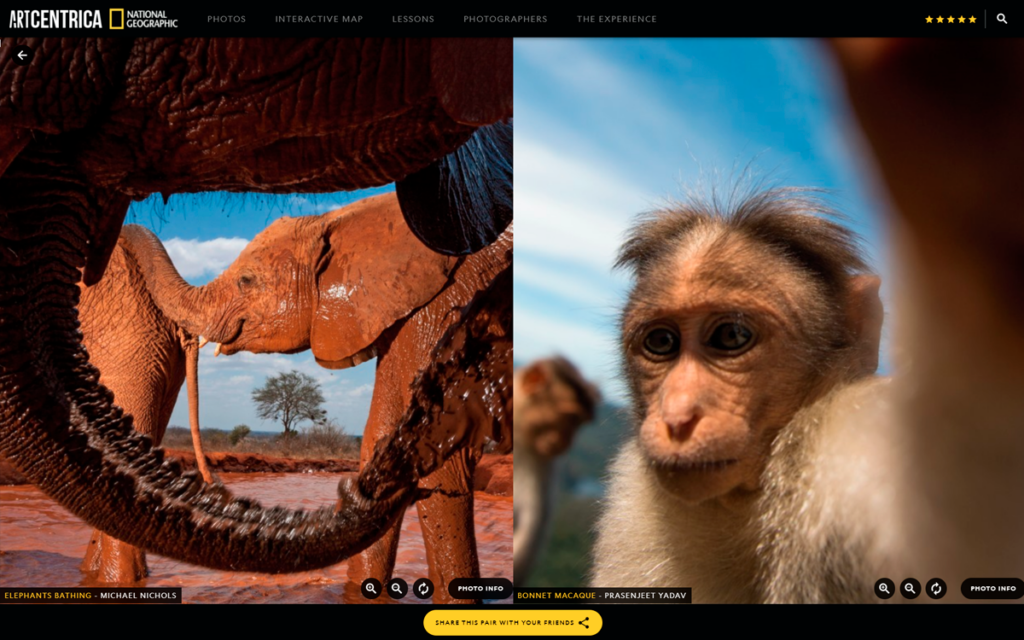 Inoltre, grazie a lezioni personalizzate e funzionalità interattive, ognuno può scoprire il proprio grado di empatia con i fotografi, gli animali e la Natura; e condividere i risultati sui social!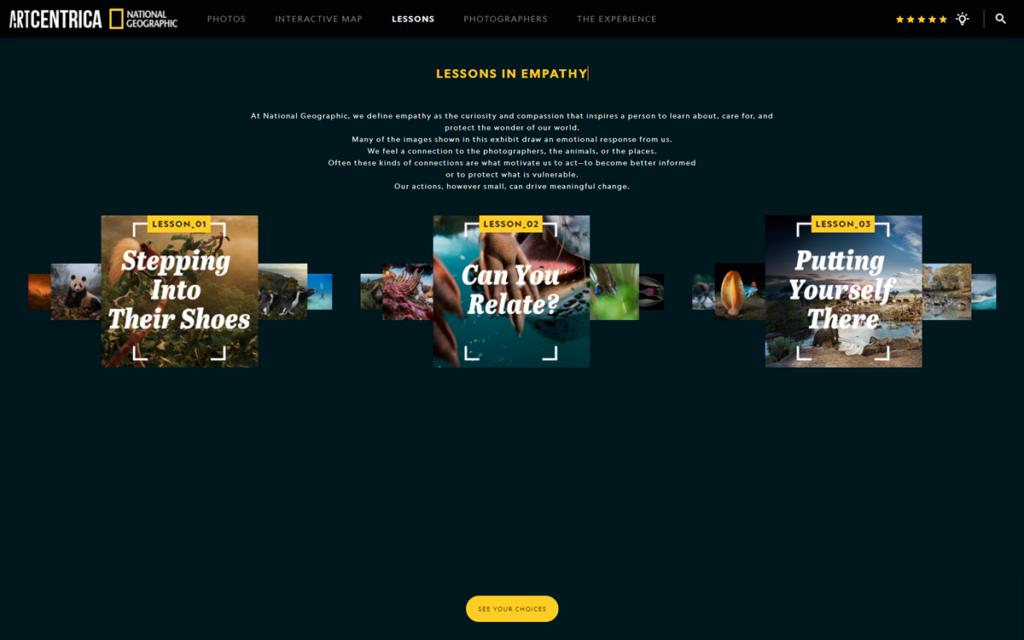 La presentazione di ArtCentrica NGS ha avuto luogo in corrispondenza dell'apertura della mostra "The Greatest Wildlife Photographs", presso il National Museum of Wildlife Art a Jackson in Wyoming, che rimarrà aperta fino al 24 aprile 2022 e accessibile QUI.
Un'occasione perfetta per celebrare la Geography Awareness Week, indetta proprio da National Geographic nella terza settimana di novembre; iniziativa che da oltre 25 anni è dedicata alla consapevolezza sulla geografia.
RINGRAZIAMENTI
Ci teniamo a ringraziare National Geographic, per averci dato la possibilità di prendere parte a un progetto così importante e di grande crescita, in particolare: Kathryn Keane, VP, Public Experiences e Direttrice del National Geographic Museum, con cui abbiamo avuto il piacere di lavorare e confrontarci in ogni parte del processo creativo e di sviluppo.